I got a chance to get out this morning with a DISC just to do some recreational shooting. This rifle I put a very inexpensive scope on for fun... it is a $29.00 BSA Deer Hunter (1x5-32). It is really not a good scope at all but fine for playing with.
Headed to the farm and set up some targets. I had planned to shoot some 100 yard birds and a 100 yard target for a group. As planned I set out 4 birds and the 1 target at 104 yards by laser. I really did not have a lot of time so I thought my plan might fit well in the time I had...
I was a good plan but it did go haywire not to long in the shoot.
I have this gun sighted with a 6" PBR so at a 100 yards I should be just under 3" high, which really works well shooting the birds. I just put the cross hair at the bottom of the bird and I should get a hit high on the bird. My first shot confirmed what I was thinking as the bullet splt the bird in half with a good size chunk gone from the top edge of the bird at 1:00. With the wind that was blowing I felt good about the shot. So I loaded up and shot the next 3 birds with very simular results.
Each of the 4 broken birds offered a fairly decent chunk of bird left to shoot again. I do this all the time with my Savage 22 or 17 HMR - shooting bird chunks with either of them at a 100 is not much of a challenge. Normally I do not go after chunks with a ML, but the opportunity this morning was just to much to pass up.
So I decided to skip the paper target and go after the larger chunks of the 4 birds. My first shot at the first bird
MISSED
?? and from what I could tell by the dust I was just a tad high. Loaded up again and this time held the horizontal xhair just slightly lower than on the previous shot. Bingo.... good by-birdie.... From that point on the chips were not problem. I dusted all of the remains!!!
Here is a picture showing the mornings doins....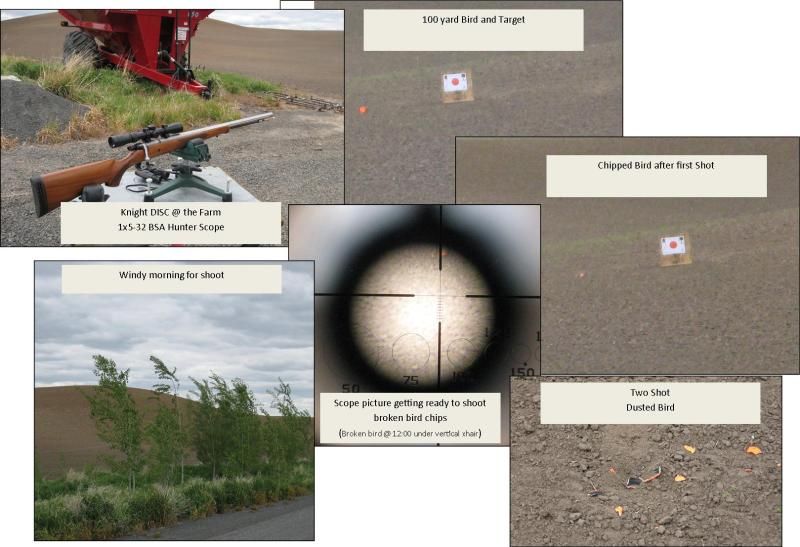 The load was 110 grains of T7-2f by volume and shooting a 40cal bullet in a MMP light tan sabot....
Dang! I like shooting