Uncle Ted wrote:Have recently converted an early Knight Stainless Steel MK 85 (serial # 2362SS) to use the 209 shotgun primer.
Just passing on a my feelings... I have a MK and a Big Horn and at one time or another I converted them to 209 also, today both of them are back to #11 cap ignition. No matter what ignition system you choose to use the breech is going to get dirty. One is really no cleaner than another, but IMO the cap ignition is safer than a 209 system. Since the MK is a plunger gun there is really noting to keep the blow back from the gun oushing the hammer back and spitting the 209 primer or its parts back out of the breech system, especially if you are using a bare 209 primer. Using a FPJ (red plastic jacket) might be more safe. This problem does not always appear especially if you are using moderate powder loads and lighter bullets... Here is a picture series of my shooting a heavier load with a heavier bullet.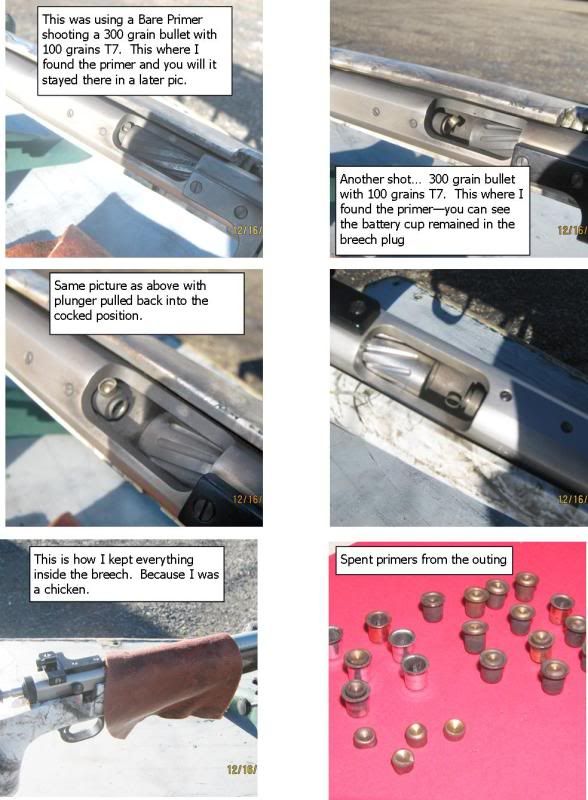 Since this experiment I have gone back to shooting a #11 Mag Cap. My hunting load for elk is 110 grains of T7-3f a 300 grain bullet in a .458 sabot.
I want to develop a load for this rifle, but am a bit discouraged by the lack of components available for 54 caliber. Would like to try the Bloodline bullet from Knight that were supposed to be available after the first of the year, but they haven't surfaced yet. Am I reading that a 50 cal bullet can be used with a 54 cal sabot?
There is a 54 cal sabot available that a 50 cal bullet like the Speer Gold Dot bullet can be put in and loaded into a 54 cal bore... And of course you can get 54 cal sabots for 45 caliber bullets and there would be a lot of options available there.
This is a link to the Speer Gold Dot 50 cal bonded Deep Curl hunting bullet. Besides this 300 grain bullet they also offer a 350 grain bullet
http://www.speer-bullets.com/ballistics ... spx?id=215
Just returning to the muzzle loader after a 5 to 6 year absence, so getting up to speed will take some time, which I have after recently applying to retire. Anybody have a successful load or info source they may want to share? Thanks
Depending on what you might be hunting in my mind would or might change the weight of the bullet used… but if you are deer hunting and want to use a Lehigh/Bloodline then the .452-250 grain bullet in a 4554 sabot would certainly do the job. Other than that the Speer Gold Dots, either 45 or 50 cal. would be another very good bullet – the 50's might be a tad heavy for deer but they would never know. I would still suggest the #11 cap and T7 powder. With the cap you should not have to worry much about the 'crud ring' as you would with the 209 primer.
Here is a picture of some of the Lehigh/Bloodline offererings. you can find the 250 in this pic.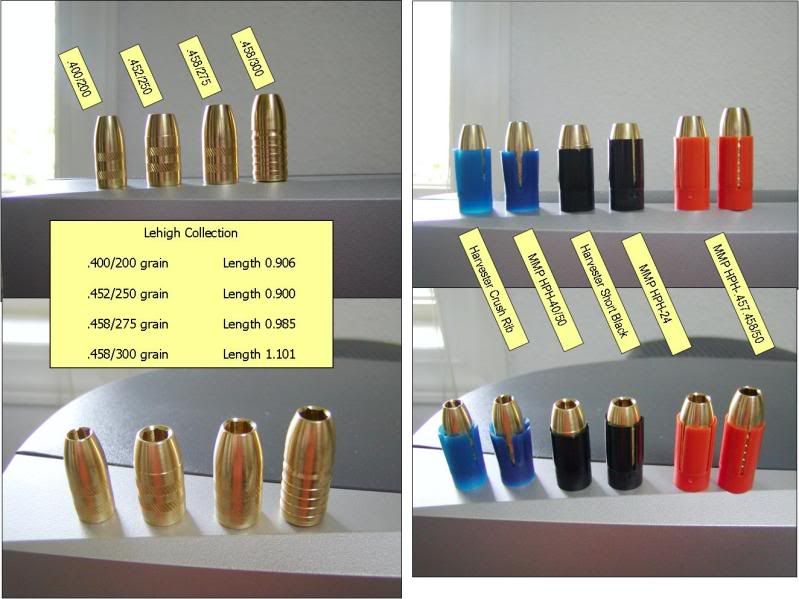 Good luck in retirement and hunting