Well it is not an Extreme, but an Elite is close enough...
Had some time this morning so I spent the first part of the morning modifiying the breech plug to shoot Remington 209-4 primers cleanly and I did want to test it.
I had big plans of setting a paper target at 25,50,75, and 100 yards. Then I wanted to shoot 3 shot groups at each range with the same POA and see what the POI was at each range...
Well the plans did not go quite as planned, as I was setting up Marty, the land farmer, came in with his tractor and wanted to hook up to the fertilizer rig. We started talking and asked what I was shooting. I told him it was a muzzleloader and asked if he wanted to shoot it. He was excited about that, as he had never shot a ML. So anyway I ran a few clay pigeons out to the 75 yard mark, loaded the gun up. He watched intently and when I handed him the rifle headed to the bench and picked up and bird in the scope - pulled the trigger and no more bird... 'One more time' he said. Once again bird gone... I believe he is hooked as he called his son in Spokane and told him about the adventure - then suggested he was going to buy a ML...
Well after he left, I popped the rest of the birds. Then decided to run the target out to 175 yards - just for drill...
Their really was more of a breeze than I really wanted but what the heck. First two shots were great and I felt really good about myself. Then #3 - SHOOT!!! - then #4??? I wanted that one back in the group way to much and rushed it... But even then a 3" four shot group isn't all that bad... Still ticked about #4 though.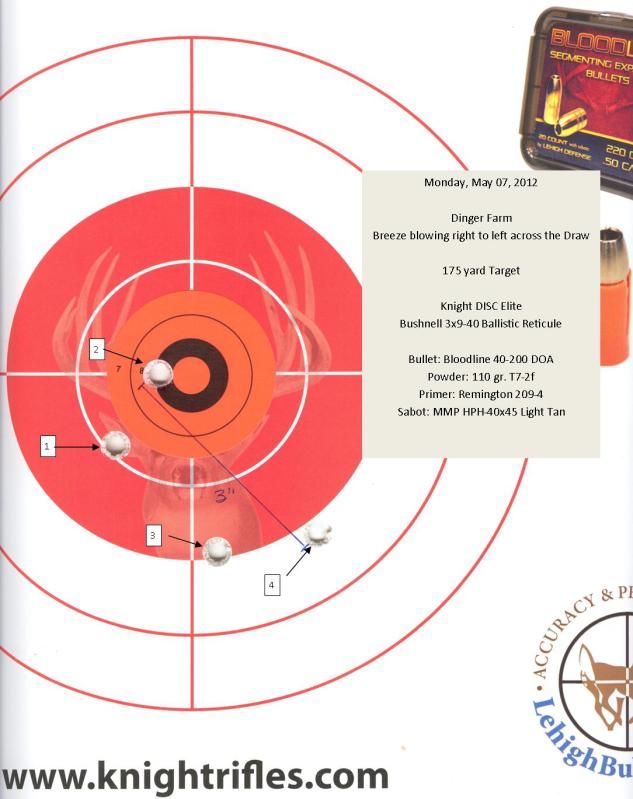 Additional pictures...