And I mean this in a good way.
Today was beautiful. 50 degrees and sunny, so no jackets needed. I had the yard all cleaned up and decided to shoot. So I set out a target and thought I was at 50 yards.. but I have been moving my bench and such around so much lately, I really was not sure. Well I was wrong. Three readings with a new battery in the range finder said. 44 yards. OK.. good enough!!
The rifle was a Knight LK-II . This is a 50 caliber with a 1-28 twist and a 22 inch barrel. The ignition system is only a #11 cap system and I never saw the need to change it. I'd spent a whopping $19.99 for the 2.5x20mm Simmons Prosport scope. But the little scope has never let me down. The rifle is sighted in on a high bull at 35 yards. That is because the shots in my woods would never be over 50 unless you're shooting down the boundary lines.
So I decided to shoot 80 grains of Goex 3f. A favorite powder of this rifle. And I picked MMP HPH 24 sabots for the rifle. And its favorite ammo the .452 Hornady XTP 300 grain bullet. I never shot a deer yet with this load but always figured it would really work well on them.
Well here is a ten shot group...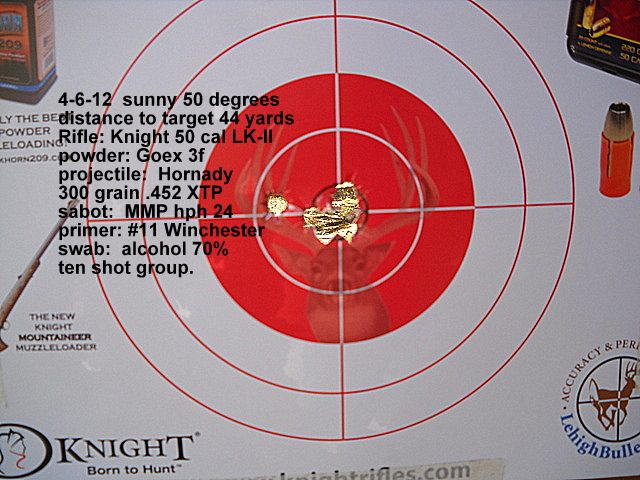 If it had not been for shot #4 that would have been some groups wouldn't you say. Now granted it was 44 yards. And the rifle does have a 2.5x scope. But for me that's not bad. And the group actually only started to open after shot #6. Other then #4 that is.. other wise it was a nasty looking hole.
Then I wanted to see if the rifle would shoot 350 grain Hornady FPB conicals. First off they loaded like a dream. I stuck with the 80 grains of Goex 3F powder.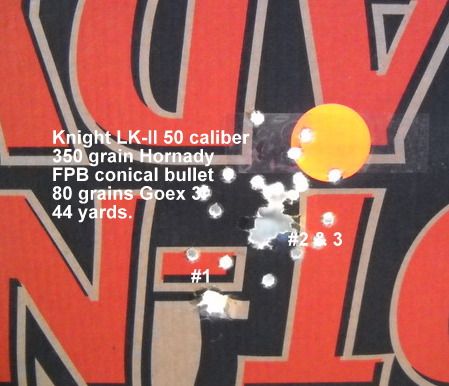 I first swabbed the barrel CLEAN as in a white clean patch clean. Let it dry. And turned the target over. I was earlier sighting in a .22 caliber rifle one afternoon at 50 yards. That is the .22 holes you see. But I was sure I could see the difference in the size of the holes.
Well shot #1 was low. Not sure why. Shots 2&3 looked pretty good. I shot a 4th shot but can not swear right where it is.. so I did not claim it. BUT I believe it is right on top of #3 but like I said.. can't be sure. But the rifle does seem to shoot them well. With a minor scope adjustment that would be a good hunting load. If the FPB is a good hunting bullet.
So over all it was a great day on the range. Nice to see one of them come along like that.