It was hot and dry today but I really wanted to do some shooting. So I took the 4wheeler off the truck and loaded the shooting supplies and headed to the rock pit this morning.
I wanted to shoot the Super DISC, but the 52 has been load since the first of August so I decided to take it and shoot the current load out and reload it for the remainder of the early fall elk season.
When I got to the pit I decided to shoot the 52 first and get that over with. You are not going to belive this but I took my first shot and I am ssure I hit the bird but you know what I forgot to count how many birds I put. I was sure it was 6 but not positive - there were only 5 on the wall. So I decided to load up one more Lehigh Buffalo bullet and pick off another bird- which it and I did. Then that was so musch fun I just went after the rest of them... After the 6 shots I wiped the bore with a Windex patch dryed it and loaded the 120 grains of T7-2f and Knight grey sabot and a .458-305 grain Lehigh. It is now good to go till the end of the season or when ever a cow might show itself.
Next story is not as good...
I had decided to take the wood stock off the Super DISC, which the gun was sighted in with and install it back into to my hunting stock...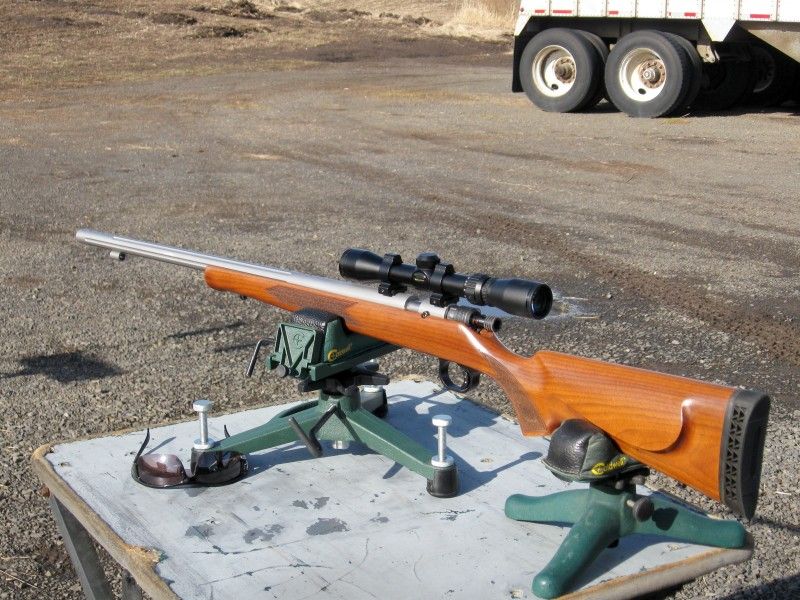 In it's hunting stock
Well the stock swap did not agree with the barreled action... It would not hit the birds at all. I tried a 3-4 shots and it proved to be 4-5" high on each shot. It was so hot in the pit I did not want to set up a 100 yard target and get the elevation corrected. Decided to pack up and head back to Moscow and then head to the farm this evening to get thing s worked out. When I got home I did check it with the bore sight and moved the elevation down 16 clicks....
Headed to farm this evening to check it all out. Things are right in the workd now... At the farm I need to come back up 2 clicks to get my 3" PBR back in shape...