Sqezer sent one of his 1-20 45 cal Knight Super DISC out west in the name of curiosity... my curiosity!!!
I have never shot a 1-20 and have always been sceptical of it because of the reputation that the 1-20 twist rifles built a few years back.
Up until now I was really happy with with my 1-30 twists and thought that maybe a 1-24/22 might work well but after shooting the Super DISC today - i could really get happy with a 1-20.
The gun proved to me today that I could shoot a fairly heavy load (120 grains of T7 - with a 200 grain Lehigh and a MMP sabot) and get great accuracy.
I went out to the farm more or less to test the breech plug I had built for Sqezer, to make sure it was clean. When I got the barreled action - I just dropped it into a DISC Elite stock that I had here and mounted a scope on it.... Remember the conversation about cheap scopes... well this is a cheap scope... $29 BSA DeerHunter - I have had it for several years and it has been on and off different ML's. But it worked well today... in fact any thing that you see 'not so good' it was the scopes fault anything that looks good is because I over came the scope and got the job done.
I really had not planned a long outing, as i said I was just checking the BP, but after 77 shots - i was one really happy camper.
I got the gun sighted in @ 25 yards very quickly and started shooting birds. Then I moved to 50 checked the the target again with 3 shots and another bunch of birds. Finally 50 yards proved to be 0 challenge even with the poor scope... I moved everthing to 100 yards. Shot a bunch of birds first and during that shooting I did turn the scope up another 2".
At this point I decided to try the Lehigh sabotless bullets that I had left from last summer. I had check them for fit in the house and was really confident and excited that they would fit this gun very well.
I ended up shooting 15 of these bullets... 12 version 1 and 6 version 2's. The version ones loaded very well in the gun. One good rap on the short starter drove the crown through the 3 barbs, then push it down with the ram rod. It was near a perfect fit and it was just as accurate as it took care of its' assigned birds. Then I tried version #2 bullet with 2 extra barbs... The short starter would run the barbs through the crown but bullet was just a few thousands to thick after the crown. The version #2 measures 0.4505 right after the last barb. Version #1 measures 0.4485. That slight difference makes a really big difference loading - but does not bother accuracy. These could become really good conicals. I hope Lehigh Dave is able to get back to them in the near future.
The last thing I did was to shoot a target - just for drill because target seem to carry the weight in showing off a gun... So here is the target.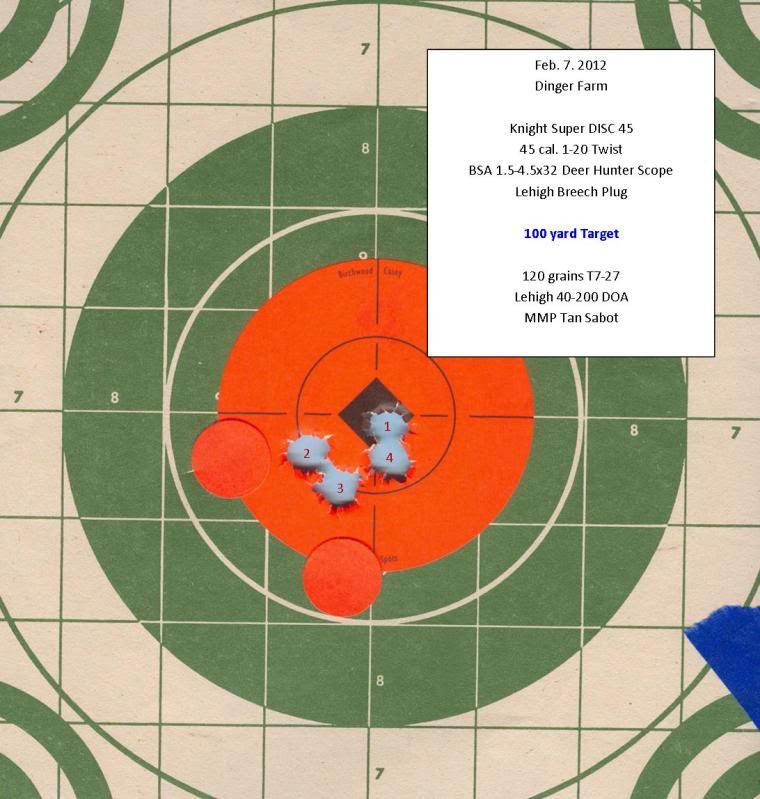 Also here is a collection of pics from the outing...
I vote for the reintroduction of the Knight/GM 1-20 twist barrels.
Hope to get out with this gun a couple more times before I have to send it back home.
Thanks Leroy