I made a trip to the Rock Pit this morning to test my newly modified Lehigh Breech Plug.
Most know that i am a T7 shooter and I normally shoot an old Remington 209-4 primer (built for the 410 shotgun) as it is the weakest 209 primer that I know of. The Remington primer either the 209-4 or even the modern STS are somewhat short for the primer pocket of the Lehigh that mates best with the longer Winchester W209. The Remington works fine in the Lehigh other than it is somewhat dirty because it does not reach the primer shelf.
Well, a freind of mine in Canada, has helped me find the easy cure to adjusting the primer pocket depth. In the past I would turn SS washers down the the proper diameter to press fit into the primer pocket and with that mate the pocket to the primer and the gun. Even after turning the washer down to the correct diameter I would then have to sand the thickness down to achieve the right depth.
Brian sent me two products. one product is called 'Stainless Steel Adjusting Lengthening Shim' and comes in various thicknesses from 0.005 and up. The second product is called 'Shoulder Screw Lengthning Shim'. The come in various diameters but the one I wanted has a OD of 0.0248 - with thicknesses of 0.005, 0.015, 0.032. The OD of 0.248 works perfect to press fit tightly into the primer pocket.
I removed the BP from the 52 and installed a 0.248-0.005 shim and now the Remington Primers work perfect, as would CCI and probably Federals.
So the trip to the Rock was nescessary to check out this new modified Lehigh breech plug. The plug-shim-primer worked flawlessly...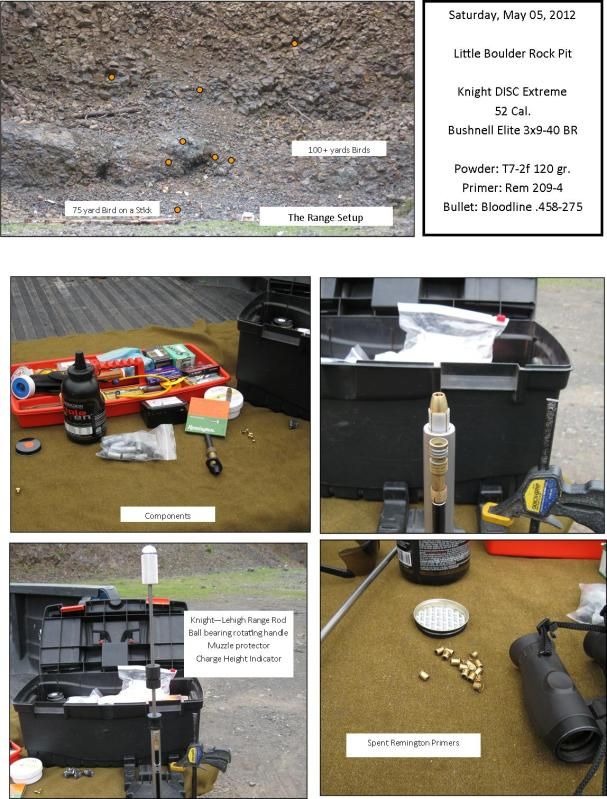 The rifle did great also...
The first picture shows the first group of clay birds that I put out, I also grabbed a quick picture of the components I was using.
I am not sure I am 'indexing' as does everyone else might do it but I always insert the sabot with a petal looking at the ram rod.
The next picture shows the range rod down the bore. And the reason I through that in here was if anyone might be looking for a good Range Rod I believe this to be a great one and I think they are still on sale at Knight...
And the best part look how clean the the short Rem primers turned out which translate to a perfectly clean breech... I love it when a plan comes together...